Head of Department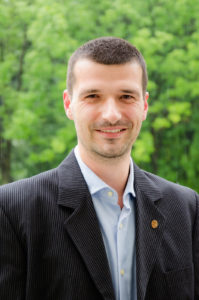 Péter Fürjes
Tel: +(36-1)-392 2222 / 3887
E-mail: furjes.peter@ek-cer.hu
Research directions and trends
The main goal of the Microsystems Laboratory is to research and develop integrated sensors and sensor systems, MEMS and BioMEMS devices fabricated by silicon or polymer micro- and nanomachining technology. The activity covers the characterisation, materials systems and technology solutions and the development of sensing principles. The application of micromachining technology enables the miniaturisation of analytical systems and integration of various functions of sample preparation, sensing, readout, actuation or communication, respectively. The laboratory is focusing on the development of mechanical, physical, chemical (and biochemical) sensors, functional micro- and nanofluidic devices, implantable microsystems and infrared LED.
Our goal is to broaden the spectra of perspective research topics of MEMS systems and to develop a systematic organisation and form a dynamic and growing research group in the Microsystems Laboratory. Our research directions fit to the European and Hungarian strategic roadmaps and directives (S3 – National Smart Specialisation Strategy) by the following research topics:
Healthy society & wellbeing

BioMEMS, Lab-on-a-Chip, Organ-on-a-Chip, microfluidic systems,
implantable, wearable devices, personal medicine, continuous monitoring, etc.

Vehicle technologies

Driving safety sensors

Clean and renewable energies

Low consumption electronics, sensors for energy industry,
characterisation photovoltaic systems,

Sustainable environment

Environment safety sensors (water monitoring),
gas sensors (smart home, smart clothes)

Healthy food

Food safety sensors, spectroscopy
Highlighted research fields in the Laboratory:MEMS / smart sensors (Csaba Dücső, Ferenc Bíró)
The team's primary expertise is traditional MEMS sensor development, such as gas, environmental and mechanical sensors with an emphasis on the technology of 3D microstructure implementation.
BioMEMS, medical applications (Péter Fürjes, Csaba Dücső, Péter Földesy)
Silicon based sensor development and their electro-mechanical integration, specifically for medical applications, are the long-term goals in this topic. The topic includes Si and flexible integrated microstructure development.
Lab-on-a-Chip / Organ-on-a-Chip (Péter Fürjes, Orsolya Hakkel)
The LoC and OoC systems are essential building blocks of Point-of-Care diagnostic tools in the medical field. We have vast experience in this topic, especially in microfluidics. Accordingly, we actively collaborate with companies in this field as well.
IRLED (Zoltán Szabó, Ferenc Bíró, István Réti)
We fabricate and develop a few thousand infrared LEDs per year. Additionally, we envisaged a larger scope spectroscopic development and application in the frame of an actual ECSEL grant. Environmental analytics and food safety applications could be important goals for IR spectroscopy and other optical developments.
Infrastructure and technological competencies
This is a unique infrastructure in Hungary, can support the micro- and nanotechnology based system technology applicable for fabrication complex, purpose-designed microsystems, nanocircuits, as well as Lab-on-a-Chip devices.
The high-tech microtechnology related fabrication and characterisation systems work in a class 10 cleanroom facility. The laboratory is dedicated for 3D processing of 3" and 4" Si / glass / polymer substrates with maximal resolution of 1µm, together with lithographic mask manufacturing. Electron beam lithography and focused ion beam (FIB) milling are also available with resolution of 20nm. The structural design and development are also supported by multi-domain Finite-Element Modelling (FEM), and process simulation. Wide spectra of characterisation techniques are also available: optical (fluorescent) and electron microscopy (SEM and EDS), atomic force microscopy (AFM), profilometry, optical and electrical measurements, electrochemical impedance spectroscopy, microfluidic characterisation, mechanical vibration and climate test chambers, UV / VIS / IR / FTIR spectroscopy, etc.
Available micromachining techniques:
Patterning – mask design, laser pattern generator, photolithography, (double side) alignment, electron beam lithography (E-Beam), Focused Ion Beam processing – FIB milling, nanoimprinting
Structured polymer layers – PMMA, PI, SU8 patterning, micromoulding, soft lithography – PDMS
Wet chemistry – chemical wafer cleaning, isotropic and anisotropic etching techniques
Dry etching – deep reactive ion etching, plasma etching techniques (DRIE, RIE)
High temperature processes – thermal oxidation, diffusion, annealing, rapid thermal annealing (RTA)
Physical thin film depositions – Thermal and electron beam evaporation, DC and RF Sputtering
Chemical thin film depositions – Atmospheric and Low Pressure Chemical Vapour Deposition (CVD, LPCVD, LTO), thermal and plasma enhanced Atomic Layer Deposition (ALD)
Liquid Phase Epitaxy of III-V compound semiconductors (LED manufacturing)
Wafer bonding – Si-glass, glass-glass, polymer-glass anodic and thermal bonding
Chip dicing, wire bonding especially for sensor applications
Special packaging techniques and methods
Scientific, industrial and educational cooperations
Apart from the European and bilateral international R&D projects wide cooperative and knowledge network was established by the large number of joint research projects with Hungarian research centres (ATOMKI, BME, PPKE, SE, SZBK, PTE, WIGNER, SZTAKI) and research groups to perform interdisciplinary research. We are supporting the National Quantum Technology Programme (HunQuTech) and the National Brain Programme by our infrastructural background. Besides the scientific projects, the Lab offers technology development services for industrial partners to achieve higher technology readiness levels.
The technological and scientific results are directly transferred into the higher education, by means of several lectures, laboratory practices, TDK, diploma and PhD works. Our researchers give lectures at various departments of BME, PPKE, ÓE, DE, ELTE.
Websites:
Our publications:
https://m2.mtmt.hu/gui2/?mode=search&query=publication;authorships.organizations.name;any;mikrorendszerek%20laborat%C3%B3rium;publishedYear;ge;2019
Publications before 2019 can be found as Microtechnology Department here:
https://m2.mtmt.hu/gui2/?type=institutes&mode=browse&sel=21864
Colleagues of the department:
Researchers
István BÁRSONY, member of HAS,
Orsolya BÁLINT-HAKKEL, Ph.D.
Ferenc BÍRÓ, Ph.D.
Csaba DÜCSŐ, Ph.D.
Péter FÖLDESY, Ph.D.
Péter FÜRJES, Ph.D.
Zoltán HAJNAL, Ph.D.
István RÉTI, Ph.D.
Zoltán SZABÓ, PhD.
Engineers / technicians
György ALTMANN, technician
Gabriella BÍRÓ, technician
Tibor CSARNAI, technician
Magda ERŐS, technician
János FERENCZ, electrical engineer
Petra HERMANN, bioengineer
Róbert HODOVÁN, mechatronic engineer
Csaba LÁZÁR, electrical engineer
Margit PAJER, technician
Zsuzsanna Brigitta SIK, bioengineer
PhD Students
Anita BÁNYAI (ÓE Uni Óbuda)
János RADÓ (ÓE Uni Óbuda)
Eszter Leellősyné Tóth (Pazmany Peter Cath. Uni– defence in 2019)